CINCINNATI — Devon Still won't have an opportunity to record a sack this weekend, but he's rooting for his teammates to bring down Baltimore Ravens quarterback Joe Flacco often.
Here's why.
In an effort to help raise money and awareness about pediatric cancer, the Cincinnati Bengals' practice-squad defensive tackle coordinated a fundraising drive that correlates with the number of sacks the Bengals record this season. It's a drive the Bengals promoted on Twitter earlier this week, and one inspired by Still's daughter, 4-year-old Leah Still, who is going through the fight of her young life. In June she was diagnosed with stage-4 neuroblastoma, a childhood cancer that has left her with a 50-50 chance of survival.
Her story swept the nation earlier this week after this ESPN.com report about a feel-good gesture from the Bengals, and similar reports from other outlets. In less than four days, the post been shared on Facebook more than 70,000 times.
The story touched a nerve for many Americans because after Still was cut last weekend because of injury issues and the fact that coaches could see his daughter's ailment had him mentally distracted, Cincinnati re-signed him to the practice squad once he cleared waivers. It was a move that allowed him to keep his full health insurance benefits so he could pay for Leah's treatments.
#GoBengals
[+] Enlarge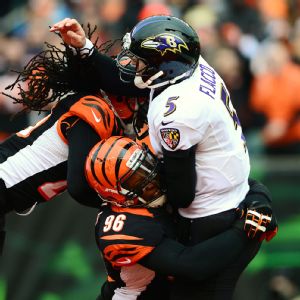 Andrew Weber/USA TODAY SportsIf the Bengals sack Joe Flacco on Sunday, money will flow to pediatric cancer research.
Still said doctors are estimating her medical costs could reach $1 million.
Still knows that not every family that has children with ailments like Leah's can afford that kind of medical care. He wanted to help them. He wanted to turn his negative situation into a positive one for someone else.
"One of the things that we took into consideration before we made it public that my daughter had cancer was that my daughter's not fighting this for no reason," Still said to ESPN.com on Friday. "That at least what we get out of this battle is that more people start to know about childhood cancer and more people decide to start helping with it so that families don't have to go through it by themselves."
Here's how he and a couple of friends are trying to help.
In July, he launched a website fundraiser through pldgit.com, where donors can donate an amount of their choosing that will go to the drive's efforts. Donors can give two ways. Either through a one-time donation, or through a per-sack set up. In that instance, for every sack the Bengals record this season, the donor would be giving that same amount from now through the Week 17 finale.
So if a donor were to pledge $15 per sack, he or she would give that amount each time the Bengals stopped the quarterback behind the line of scrimmage this season.
Last year, the Bengals had 43 regular-season sacks.
All proceeds go to the Cincinnati Children's Hospital and the Children's Hospital of Philadelphia. The U.S. News & World Report ranks both among the top three medical centers for childhood cancer research in the country. Leah currently is undergoing treatment at the Children's Hospital of Philadelphia. After the Bengals' Friday morning practice, Still was headed to the airport to fly to Philadelphia to see her. He'll join the rest of the team in Baltimore ahead of Sunday afternoon's game against Flacco's Ravens.
Still is looking forward to seeing his daughter because it's been difficult for him to communicate with her on video messaging services.
"I FaceTime her all the time. She loves it, a lot," Still said. "But it's hard for me to FaceTime her because it's like she goes through different procedures. So sometimes I'll FaceTime her and she'll have tubes in her nose that I've never seen, or there will be tubes sticking out of her neck. I try to keep a straight face on there and keep smiling so that she can keep smiling."